I do! There is a new event series starting up in Toronto called "Bordeaux After Work Party". This series is hosted by the iYellow Wine Club and the Bordeaux Wine Council. Funny, as I'm writing this, I just saw a commercial on TV about which beverage is better to have a dinner party. In the shot they had someone fumbling to open a Bordeaux wine bottle and another person making some sort of mixed drink using a tomato based beverage (I won't say the name). I think they were really trying to sell the tomato-based beverage as the ideal candidate for a party. I've never seen anyone have as much trouble as this actor opening a wine bottle. Personally, I would prefer to have wine at my dinner party - especially a nice wine from the Bordeaux region.
There will be five events throughout the summer in Toronto, each at a different trendy location. During these events, five wines from every region of Bordeaux will be featured. The first glass will be free and anything else after that will be available for a reasonable price. These events will offer you the opportunity to learn more about the Bordeaux region and the many different wine styles associated with with it.
These two sites are very informative and interactive. They have maps, videos and food pairing suggestions:
www.enjoybordeaux.com
and
www.bordeaux.com
I personally have been to the old port City of Bordeaux. Sadly, I didn't make it to the wine regions while I was in the area. I was passing through on my way to a wedding. Having explored many of the other wine regions of France, Bordeaux still remains a key area that I must visit!
Here is a map of the various wine regions of Bordeaux. It may seem complicated at first but the more you learn about this area, the less daunting it will be. I highly recommend learning about Bordeaux by tasting your way through it. :)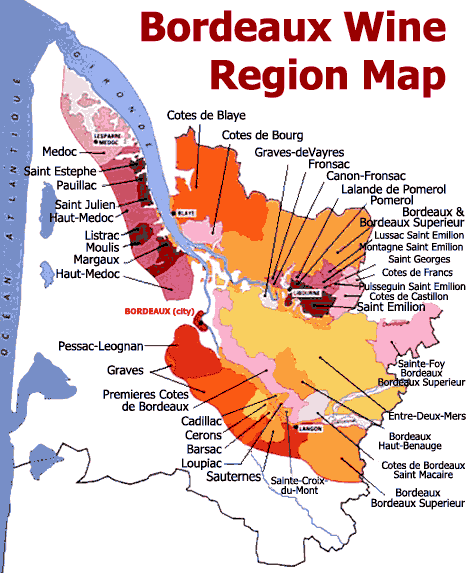 www.terroir-france.com
If you're not familiar with Bordeaux wines, then here are some key facts to get you started:
Bordeaux produces a wide range of wines from red, dry white, sweet, semi-sweet, sparkling and rose
Wines from Bordeaux are labeled by region and not by grape variety
In general, Bordeaux wines are blends. This means that you'll rarely see a wine from Bordeaux made from one grape variety. The main winemaking feature of the Bordeaux region is the creation of a balanced wine made from the blending of the various grape varieties
The major red grape varieties which are in general, blended, are Cabernet Sauvignon, Merlot and Cabernet Franc (sometimes Malbec, Petit Verdot and Carmenere are used)
The major white grape varieties are Sauvignon Blanc and Semillon
Some wine lingo:

"Left Bank" (refers to the area left of the Garonne river) - wines are usually Cabernet Sauvignon dominant in the blend
"Right Bank" (refers to the area right of the Dordogne river) - wines are usually Merlot dominant in the blend

Sparkling wine from Bordeaux is Cremant de Bordeaux
Delicious sweet wines come from Sauternes, Loupiac and Barsac
Key feature of sweet wines coming from areas such as Sauternes is "noble rot" which gives the wine a unique flavour. Don't worry, it's a good thing and it's delicious
Looking for a dry white? Try something from the region of Graves, Pessac-Leognan or Entre-Deux-Mers
A good introduction to the entire region as a whole would be to find a wine labeled as Bordeaux or Bordeaux Superieur. These wines can be made from grapes from anywhere in Bordeaux
A wine from Bordeaux doesn't have to be expensive to be enjoyable. There is something for every price point
As you taste wines from Bordeaux, make note of the region that it's from. Whether it's a general Bordeaux Superieur, Pomerol, Margaux or one of the many others, each region offers it's own unique stamp to its wine.
www.smith-haut-lafitte.com
How to read a Bordeaux wine label interactive tutorial:
www.snooth.com/articles/commentary/how-to-read-a-bordeaux-label
The following dates for the Toronto
"Bordeaux After Work Party"
events are as follows:
July 19, September 13 and October 25.
For more information about up-coming wine events in Toronto:
Also check out Bordeaux Wine on Facebook:
www.facebook.com/bordeauxwine
The main thing to take away from this post is that you can find a wine from Bordeaux for any occasion and to pair with any type of food. The options are endless! C'est magnifique.